Origins of the Portable Train Weigher (PTW)
15/01/2015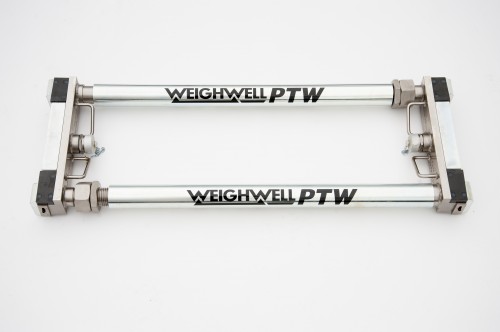 Created by inventor and Managing Director Paul Horsfall at the age of 22 in 1988 Weighwell since its inception has grown exponentially in the field of weighing trains. Originally a Wakefield based company we pride ourselves on offering bespoke train weighing solutions. Our flagship product the Portable Train Weigher (PTW) was launched in 1997 with rigorous testing taking place. This has led to Weighwell working with some of the largest and prominent train operators, manufacturers and rail consultants throughout the world.
So what is the Portable Train Weigher?
The PTW is quite simply a train weighing system that isn't permanently fixed into the track. This allows our weighing systems to be used in multiple locations and installed quick and easy. We offer two methods of weighing static or in-motion. Our static systems have an accuracy of +/- 1% and provide individual wheel weights. Whilst our in-motion systems weigh trains at speeds up to 5km/h, have an accuracy of +/- 2-3% and provide axle weights.
Our PTW has two 'bodies' (per basework) which both incorporate a loadcell and are fitted into parallel sections of the rail. Our train weighing system has a frame which lifts the wheel tyre of the rolling stock a maximum of 2mm (thus keeping the flange within the rail head). This allows the weight to be sent to the loadcells, which is then interpreted by our software or indicator.
Is the Portable Train Weigher any good?
As with any company we like to stress the benefits and advantages of our PTW over other train weighing systems, however we feel one of the most important indicators of success is external recognition. Our train weighing system the PTW was granted Millennium Product status by the Design Council, which was an initiative that identified innovative and forward thinking products. This award covered products that are of genuine inventiveness and provide that vital leap in imagination. Basically the PTW was a product nobody had ever seen before.
At the time, people thought that weighing a train portably was an impossible concept. However since then we have won multiple DTI awards and been recommended for the Queens award for Enterprise. In fact we have actually used a PTW to check the safety of the Royal train (with the plans destroyed long ago for security reasons). Despite being proud of our past achievements we still aim to continue leading the way with highly specialised portable train weighing systems and having being originators and inventors of the Portable Train Weigher we believe we are best placed to accomplish this.