Weighing chlorine tankers in Corpus Christi (USA)
02/03/2015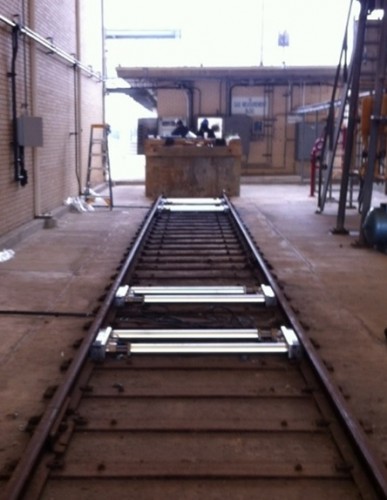 Who is the customer?
O.N. Stevens Water Filtration Plant. Based in Corpus Christi (Texas)
What do they do?
Operating out of a very modern hi-tech building (in virtually the middle of nowhere), O.N Stevens produce the drinking water for half a million people in the surrounding area of Corpus Christi. On average the Filtration Plant produces 80 million gallons of water a day, which is equivalent to 40 miles of railroad tank cars!
The weighing system Weighwell delivered, calibrated and installed (alongside our American agents) earlier this year was two full train weighing systems (PTW 500-VB2X). These train weighing systems can provide a variety of information and in this case were used to weigh two tankers. The purpose of the train weighers is to monitor the chlorine usage used to purify the clean water. This is one stage of the treatment process which begins when the raw water is diverted from the Nueces River.
The reason for full train weighing.
The premise is that a full tanker of chlorine is parked on the train weighing system and the weight is recorded on O.N Steven's SCADA system. SCADA is essentially a control system that can be combined with a data acquisition system. With our full train weighing systems we are able to monitor the weight in the tanker until it gets to a point where they need to reorder more chlorine.
The primary reasons for two VB2X systems is the flexibility to allow O.N. Stevens to transfer the 'filling heads' to the other weigher as they only have a temporary storage for chlorine (up to one tonne). This ultimately allows for greater efficiency and the capacity to have the second tanker ready to go.
The benefits of our PTW 500-VB2X is that it is a portable, reliable and simple to operate with the ability to weigh the full wagon wheel loads simultaneously.  The compatibility of our PTW also allowed Weighwell to link to Rice Lake indicators via iqubes which are essentially intelligent junction boxes.