Weighing the class 800 train now named in Captain Tom Moore's honour
30/04/2020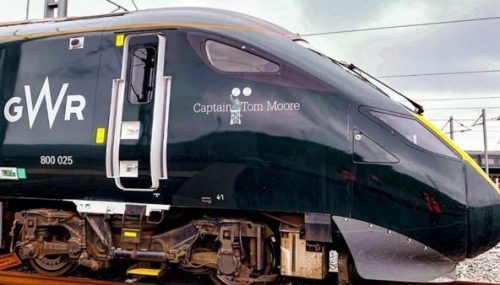 The extraordinary charitable achievements of Captain Tom Moore (commonly known as "Captain Tom", despite the very recent promotion to Colonel) are well known in the UK and abroad. With an initial target of £1000.00, over £30,000,000 million has now been raised for the NHS. Captain Tom (UK No 1 artist) has been recognised for the fantastic fundraising with numerous accolades such as a blue post box in their hometown, 140,000 birthday cards and a Spitfire and Hurricane flypast.
In the rail industry, GB Railfreight (GBRf) have named a Class 66 freight locomotive and Great Western Railway (GWR) have named a Class 800 train in Captain Tom's honour. The five car 800025 was manufactured by Hitachi Rail at their Newton Aycliffe assembly plant. All at Weighwell take pride in knowing that this rolling stock was weighed with our PTW Full Car Weighing System.
Here at Weighwell, we all wish Captain Tom a very happy 100th birthday.