Weighwell awarded Best Train Scale for the second consecutive year
13/06/2018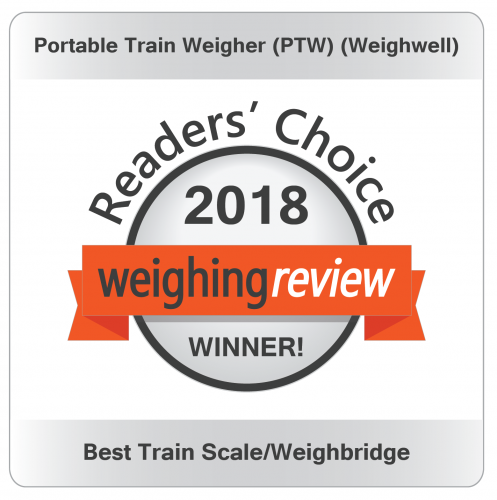 Weighwell have won the 2018 Best Train Scale category at this year's Weighing Review Readers' Choice Awards for our industry leading product the Portable Train Weigher (PTW). The fifth edition of the international awards has seen Weighwell nominated and successful in the Best Train Scale category for the second consecutive year.
Portable Train Weigher (PTW) for in-motion and static train weighing
Ideal for quick and effective train weighing our PTW's offer a robust, cost effective and flexible solution. The PTW is useful for static and in-motion train weighing with numerous features available. The PTW can weigh each axle, each bogie or the full railcar with easy to understand information on the rail vehicle distribution. Our PTW systems can provide weighing data on the individual wheel, axle, bogie and car weights as well as conform to customer requirements such as particular DIN standards or in-depth Delta Q calculations.
Weighing applications
Our mobile weighing systems are perfect for rail freight yards (in-motion weighing) and train maintenance workshops (static weighing). Designed for operator convenience our rail scale has a length of only 500mm which allows for greater flexibility between rail clips and operates via our comprehensive ptwX train weighing software which can detail "real-time" live wheel weights on the screen. In addition we can provide our PTW digital indicator unit which operates with an easy to use touch screen with weighing data exported via a simple printout or to a .CSV file for further analysis.
Paul Horsfall, Managing Director said "It is excellent news to be recognised internationally by our weighing industry peers. This award is testament to our distinguished product and extensive technical support. This has resulted in a well established international and domestic portfolio of long term customers."
For additional information on our portable train weighing systems please use the contact form or call us on +44 (0) 114 2699955