Weighwell awarded Best Train Scale for the third year in a row!
13/06/2019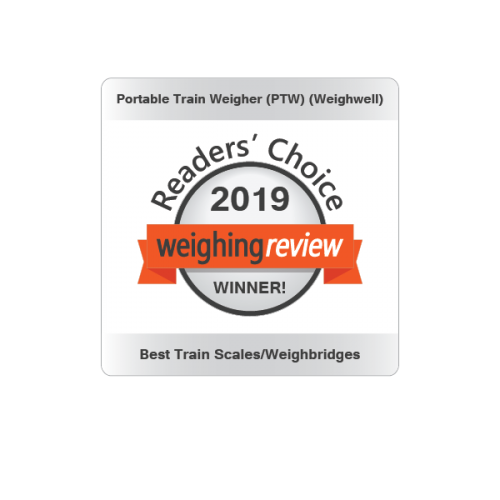 The Weighing Review Readers' Choice Awards provide 18 different categories that relate to the weighing sector and is the only global voting competition that covers the major innovations and best products in weighing technology. Weighwell Engineering Ltd have won the 2019 Best Train Scale category at this year's awards for our industry leading product the Portable Train Weigher (PTW). The sixth edition of the international awards has seen Weighwell successful in the Best Train Scale category for the third consecutive year.
The original pioneers
Weighwell are proud to celebrate over three decades within the weighing industry. We invented and established an innovative, patented and cost effective method of weighing rolling stock.
Paul Horsfall, Inventor and Managing Director said "It is brilliant news to win the Best Train Scale category for the third consecutive year and be recongised by the weighing community. The PTW is an innovative and forward thinking product of genuine inventiveness and provides that vital leap in imagination. We continue to innovate through wireless Wi-Fi technology, systems 500mm in length (for greater flexibility) and bespoke software solutions suitable to international homologation standards".
Train weighing portfolio
Our Static Train Weighing Systems are used to measure the weight distribution from wheel to wheel across an axle, bogie or rail vehicle. This allows modifications to be carried out instantaneously without any 'guess work' involved. Helping to improve efficiency and bring about improved performance our static systems can help optimise the lifecycle of rolling stock, improve safety and reduce the need for unnecessary changes (with maintenance alterations clearly identified).
Our In-Motion (Dynamic) Weighing Systems are a quick and effective check-weighing solution. Strict limits on the axle weights of wagons and the need to maximise freight loads can lead to loading problems for freight operators. Our PTW1 HD can minimise under, over or asymmetric loading via recording individual wheel, axle, wagon and total train weight data.
For more information on our portable rail scales please use the contact form or call us on +44 (0) 114 2699955